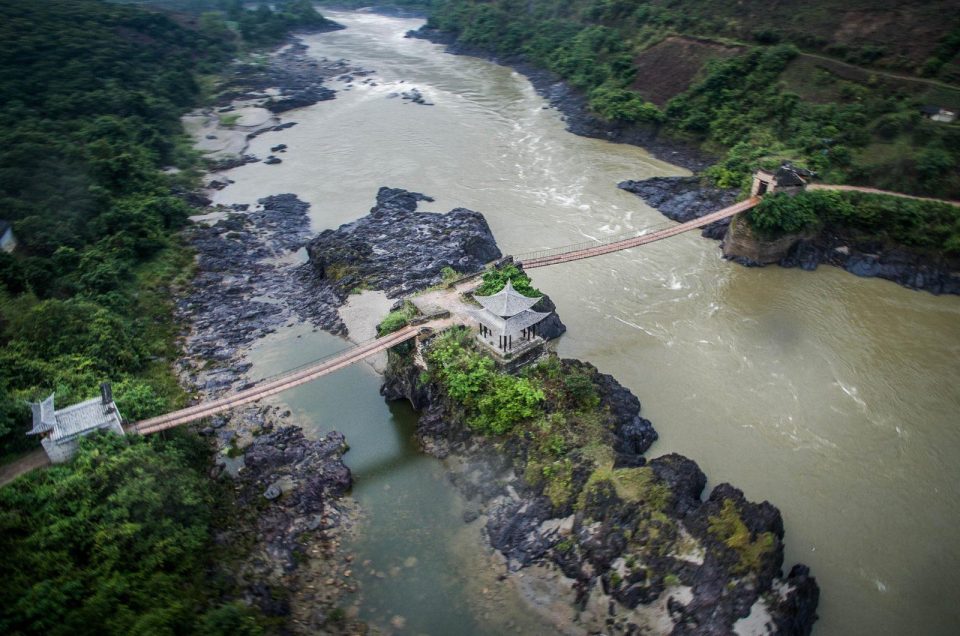 The Burma Road Route in western Yunnan province usually includes a short excursion to the Salween River Valley that is locally known as the Nu River, meaning the 'Angry River'. After a drive through the semi-tropical plains of Lujiangba, in the middle of coffee fields, plantations of dragon fruits where ancient pagodas and huge sacred Banyan trees are hidden in the midst of Dai villages, we stop at the Shuanghong Bridge for a cup of tea, made on the spot with camping gear, at the foot of the Gaoligong Mountains. Stretching across the Salween, the name of this two-parts cable suspension bridge literally means 'double rainbow'. There is an obvious connection between the name and the structure of this bridge, which is protected as an important historical heritage by Yunnan province.
Built during the 54th year of the reign of Qing dynasty's emperor Qianlong, in 1789, and re-built in 1923, the Shuanghong Bridge was a crucial part of the network of trade routes, the Southern Silk Road and the Ancient Tea Horse Road, which linked Yunnan to Southeast Asia.
One of the gates is in ruins and as we cross the bridge, we notice there are huge holes in the wooden planks through which we see the gushing waters of the Nu River. At first sight, it seems as the glorious years of the Shuanghong Bridge as crucial nod on trade routes are over. It even seems dangerous. Yet, as we sit sipping tea, looking at Gaoligong Mountains that stand dramatically in front of us, we witness a ballet of motorcycles carrying unsuspected numbers of passengers from a side to another.
We wished we had time to go and explore the villages for which the Shuanghong bridge is a lifeline, that we could drive along the Salween River all the way up to the point where the borders of Yunnan, Tibet and Myanmar meet, and leave towards the nature reserve of Baihualing. This region just has so much to offer!
Images by Pavel Dvorak