It was a year and a half ago when Bertrand, a good friend from Switzerland who I've known for more than 15 years, first mentioned his idea to come to Yunnan. Eighteen months felt like an eternity back then; well, by now it is eternity indeed, that of  memories. Bertrand and his family made their visit to Yunnan in April 2018.
He is the man who introduced me to the mountains. An avid mountaineer, he taught me about uphill skiing in the Swiss Alps, kicked my butt up the snowy slopes of the Ararat Mount in Kurdish land, and over the years, graced me with slideshows of his countless family adventures in mountains on all continents.
So when he asked for my assistance in organizing a family trek on my own turf, I knew I had to get this right. Luckily, Yang Xiao 杨肖 agreed to help. With Mr. 'Gear Guy' on board, I knew we would be safe.
The first question was the selection of our playground. The Old Sovereign Mountain Range 老君山 was an option, but somehow, we all felt compelled to choose the Celestial Treasure Mountains 天宝山. The higher elevation, the Tibetan atmosphere in nearby Shangri-La 香格里拉 and the chance to organize a mule caravan decidedly weighed for the range north of the famed Tiger Leaping Gorge 虎跳峡.
The logistics then fell onto Yang Xiao's shoulders. As usual, it went without a hitch. Top-of-the-range gear, yummy foods and campsites organized with attention to the most minuscule detail… Mr. Gear Guy had even prepared gaiters (waterproof shin protectors, to pull over your boots). As we were soon to learn, they were necessary indeed!
Not that we would have known on our first day on the Shangri-La plateau. As we visited the Songtsanlin lamasery (sometimes referred to as the lesser Potala) and later rode bikes around the Napa lake, the weather was gentle enough.
But things were to change fast. Is it because I failed to pray to Sanduo and the Precious Stone, the two local mountain gods?
Only they would know, but at any rate the weather did not spare us. As we set off on our trek the next day,  clouds gathered on the horizon.
That was of course nothing new to Bertrand and family. His daughter Cecile, unimpressed by the circumstances, took advantage of every minute the snow delayed us under the mess tent to dive back into her book. Remarkably, when I asked what language the book was in, she had to take a look before answering! A genuine Swiss citizen growing up astride two cultures.
Over the next few days, I was to learn that her passion for reading is relentless, as is her father's commitment to learning his umpteenth foreign language, Mandarin, in what is a series of mountain-related language exercises. Indeed, we had time to spend under the mess tent: the weather proved to be as stubborn as the father-daughter pair. Hailstorm, snow to the knee, heavy head winds on precarious scree slopes, frost inside the tent, we had it all!
To me it was sheer joy. In Dali where I live, snow seldom falls and I sure miss the feel of an actual winter day. But to the Swiss bunch, the weather stood in the way of longer hiking days, forcing us to set up camp in pastures at short distances from one another. What I meant to be a full-scale adventure turned out to be a series of loops in attempts to set foot on the snowy mountain, or at least to get a glimpse of the peaks reaching to the sky.
As in an eerie replay of our Kurdish attempt years ago when we were stuck a few hundred meters below summit, my attempt at showing the master what his pupil had become was thwarted.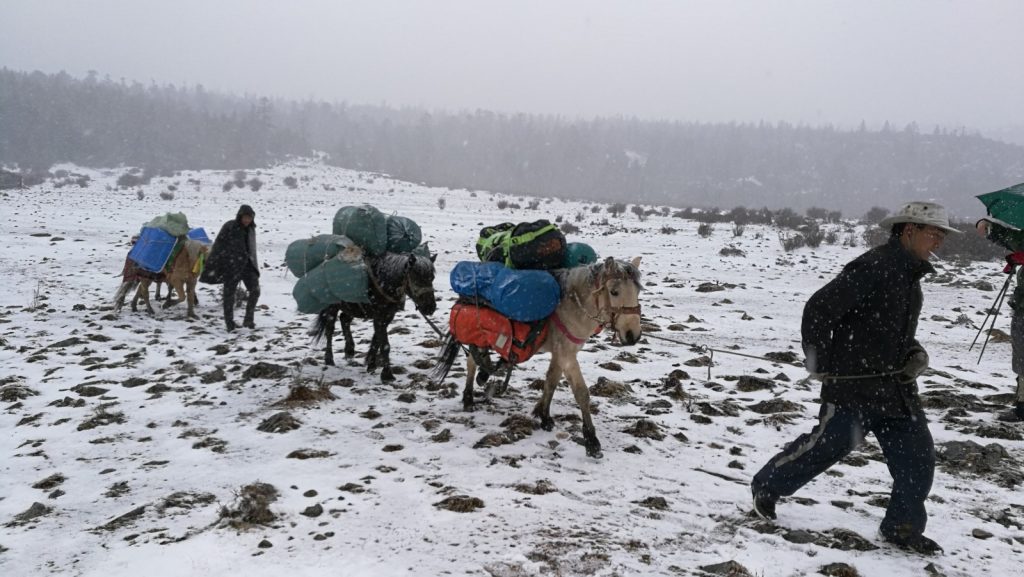 And so once more, I learned. Bertrand demonstrated again how genuinely taken away by the mountain one can get. Here he would marvel at the exceptionally elevated tree line, there he'd find a resemblance to a distant mountain he seemed to remember as if it was the only one he'd ever climbed. Agnes, his wife, not one inch less a mountaineer, equally radiated inner peace. She was at one with the trees, approached every new step as an adventure to embark on with a smile. She let me see the first flower right under my boot, told me of those yaks called dzos which one finds on the other side of the Himalayas, in Nepal.
If naughty fate had reneged on my insecure plans, then loving fate sure blessed me with a great time shared with friends.  And the blessing didn't stop there: a ghost from the past left me on this trek. Whenever I was standing in a vast expanse of land, it used to come whisper to my ear "would you rather fly, ride or slide?", insinuating frustration in my heart, leaving me yearning for the perfect way to grasp the immensity. On this trek, I have found my answer:
Walk. One step at a time.
And walking we did. More often than not, we walked behind our caravan head, Mr. Sands 小沙. He and the other two muleteers come from a nearby village at 3,000m. above sea level. The pastures are their backyard, they know each hut and each path.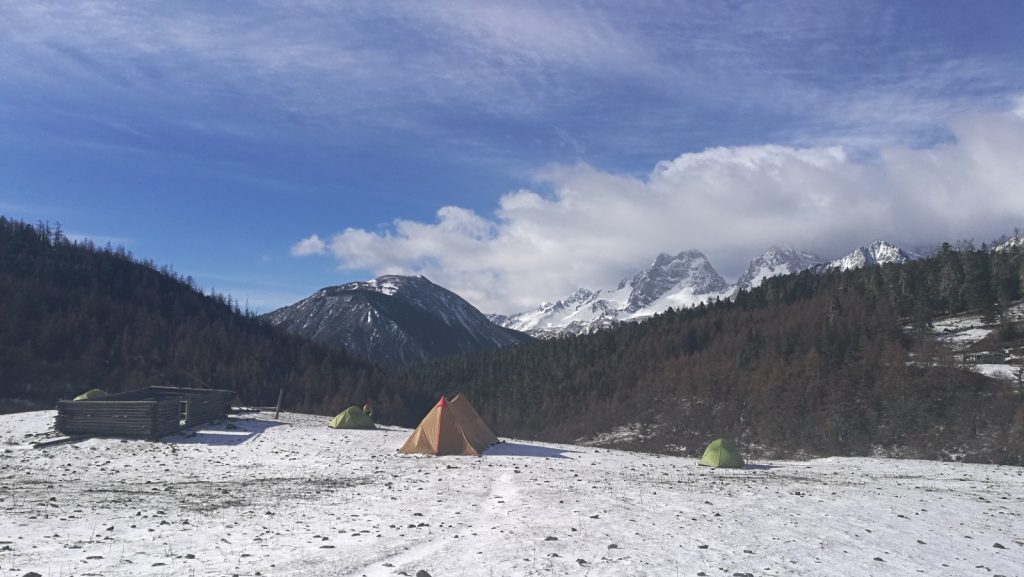 We  followed him through enchanted forests and to windswept passes, no one more so than Arnaud. Agnes and Bertrand's son. Somehow Arnaud managed to open communication with our Chinese cowboy, using a language not recorded in any textbook.
Arnaud got closer to Mr Sands. than any of us did. On the path they walked in lockstep, at rest they shared the warmth of the skin on his back, a cow skin made by Mr. Sands' father himself.
Supreme irony, and to me a sure sign that fate was indeed pulling the strings, the day we came down the mountain was also the day the sun decided to come back. But before him, the stars came first and with them, the cold of the night. Our last night on the mountain turned out to be the coldest, under a crystal clear sky.
When the time came to part with our muleteers, Arnaud made sure that his new friend would have something to remember him by. I am pretty sure that, if someday you happen to meet Mr. Sands, he'll proudly show you his Swiss army knife. And if so you happen to meet one day Arnaud, he might just offer you a game of dice, wooden cubes once carved directly from a piece of wood, somewhere on a pasture of the Celestial Stone Mountain.